The summer of 2017 was a very busy time for the Cyborg Ferrets! We went to all kinds of in Anacortes, and even hosted some of our own. This is a brief overview of our summer.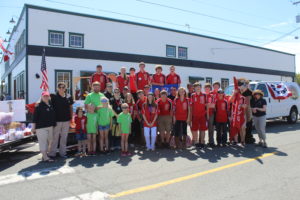 First, we went to the Anacortes Waterfront Festival – an event where lots of organizations set-up booths to get word out into the community about their program or to just sell things. Our booth included our pit structure from this year, robots for kids and adults to drive, and all kinds of info about all four of the Anacortes FIRST Robotics programs.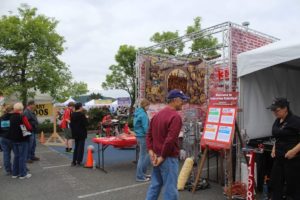 Next, we participated in the 4th of July Parade, which was tons of fun! It was great weather, and we were able to show off our robot and team extremely well by decorating borrowed tractor-trailers and using our 2016 robot to shoot foam balls around.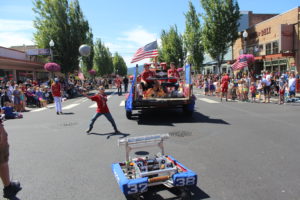 We also had a booth at the Solar Eclipse Viewing held by the Anacortes Public Library in Storvik Park – this event was super cool, as we got to both see the partial eclipse and teach kids about the wonders and possibilities of FIRST, especially in Anacortes.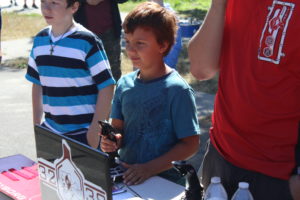 The last community event of the summer that we took part in was Anacortes Open Streets, which is an annual festival held to celebrate modes of transportation other than cars – the main street is closed off to cars, and people can show off all kinds of cool bikes, boards, and more, all while viewing the entertainment and organization booths up and down the street. Our booth is included in that number – we had robots for people to drive, information about the programs, and awesome STEM demos, including cartesian divers and a magnetic accelerator.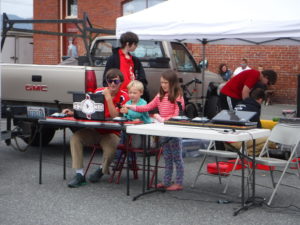 The team also held some team-building events over the summer – we went paint balling in July and had a team BBQ at Deception Pass Beach in August. Both of these were a blast – especially paintball!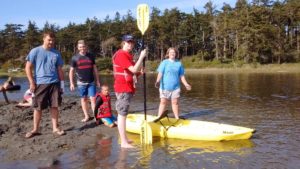 Our last summer event was something we have never done before, but hope to do every year in the future. We called it "Storytime", an opportunity for our alumni to come the high school and have their stories about FIRST in general and their experiences with the Anacortes FIRST teams recorded. The videos are in the process of being edited, but we will put them up on our YouTube channel (Team 3238) as soon as we finish them.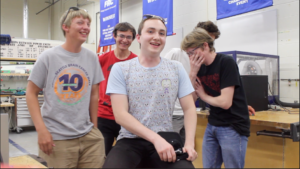 As we look towards our coming events in the fall, there is lots of excitement! This Thursday, the teaser for the 2018 FRC challenge will be released and we will begin to work on designing a new pit, costuming our team members, and making new posters and flyers to fit the theme! We will also be attending two off season competitions: Peak Performance and Girls Generation. Peak Performance is held in Seattle on September 23rd which we attended and won last year. Girls Generation is a competition designed to get girls more involved in STEM, so the drive team will be made up of girls and the girls are also expected to fix the robot if something goes wrong. Girl's Gen will be on October 28th and we will send out a link to when the live stream for each competition become available.